Sneha Karma Foundations has strongly believed that just educating the under-privileged woman is not enough. In fact, we believe that it would be more harmful to educate someone of their rights and for them to then not have the opportunity to exercise them.
We also believe if you have missed the opportunity to get academically educated, you can still become independent and self-empowered. We believe that providing them the required skill training will provide the required foundation for them to then become more confident in their ability to become independent.


But again, just having skills is not going to make them independent and self-empowered. Financial security is an important element in their ability to become truly independent and feel that they are equal to others.
In a developing country like India, unfortunately it is not easy to find employment. It become even more difficult to find employment if you are under-privileged and are 'academically uneducated'. To add to that if you are a woman, it make the task next-to-impossible.
This is where, Non-Profit organizations like Sneha Karma Foundation come in. We think we can not only provide the required 'Skill Training' to these under-privileged un-educated woman but also provide them the opportunity to earn their livelihood.
In October 2018,  Sneha Karma Foundation decided to setup our first Social Enterprise, which will provide skill training and employment opportunity to under-privileged un-educated woman. We decided to build a 'Handloom and Handicraft Centre' in Guwahati, Assam.
It was decided that we will build a Centre, which will be 100 ft x 30 ft in Size.  A Social Enterprise of this size can easily accommodate about 12 Handlooms and other required machinery to produce 'Handloom' products.  When completely operational, This would directly employ more than 25 under-privileged woman as 'Weavers' and an equal number as 'Trainee Weavers'. This setup would directly impact more than 100 people lives.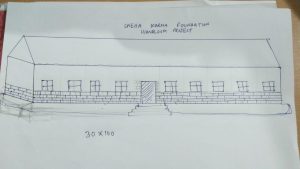 Thanks to some awesome work by our project co-ordinators ( Parijat Academy ) and their team of volunteers, we were able to complete the construction in a record six months and start the operations in March 2019.  As of April 2019,  The Centre has 4 handlooms and employs 5 un-educated skilled woman weavers and 5 girls as 'Trainees' (these teenage girls are the ones who missed the opportunity to go to school during their younger days).
The Plan is to first produce the products based on local market demands and by the end of 2019, start producing quality products which can be sold in the international market (such as USA) through our online 'Social Enterprise Platform' ( Sneha Karma Collections ).
We are expecting that Garbhanga Handloom and Handicraft Centre will not only pay for its own expenses starting June 2019 but by the end of 2019 be able to pay for all the girls in the girls from Garbhanga in our 'Support-A-Girl' program.
We are hoping that by June 2020, using the profits from this handloom centre we will be able to setup a 'Handloom and Handicraft' centre in 'Garbhanga Forest Village' itself. We think this will bring out a complete change in the 'social behavior' of the villagers of 'Garbhanga Forest Village' and their belief in Girls education and Self empowerment.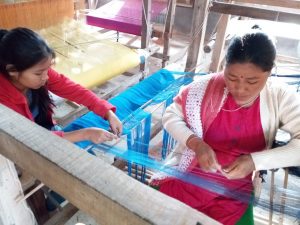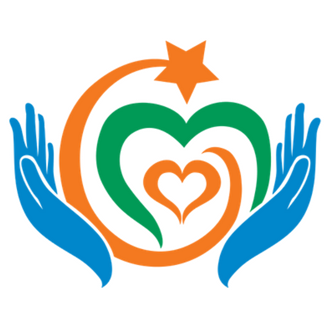 Support Us
We at Sneha Karma Foundation believe that what we are doing is transformational but we also believe that we are on a never ending journey.  We also believe that every Human Being (including you) has a role to play in driving this transformation. We believe that this is not something that we can outsource to a 'Government' or 'Private Companies' , each one of us can help drive this change.
You can either help drive this change by donating your time or your money and we promise you, we will put it to the right use.
If you have about 5 hours per week of time to donate and have some of pro-bono skills – please contact us for any of the 'Virtual Volunteering' opportunities
If you would rather like to support us by making a monetary donation, please donate generation Online or by Check
We are looking forward to changing the life of one under-privileged girl / woman at a time. In the days ahead, We plan to roll out our programs in many other program sites not only in India but even in other parts of the world. Come Join us!